VILA's professional team joins specialized lawyers, entrepreneurs with a vision of evolution in the law practice, an exceptional group of paralegals and an administrative staff fully committed to assist lawyers in the development of valuable propositions to their clients.
This firm is also well-known for acknowledging its clientele's satisfaction as one of their biggest and most valuable assets. VILA professionals thoroughly analyze the essence of the subject matter, looking to foresee alternative paths in order to provide solutions that suit the client's needs.
Some of our clients belong to the NASDAQ, FORTUNE 500 and recognize family offices, our career path has been highlighted by remarkable international publications,namely : Finance Monthly Global Awards, IAM Patent, IP Stars, Chambers, Benchmark America, and Legal 500, among others.
Vila is a firm that recognizes and studies economic and legal trends. For this reason 4 committee´s were created - each one is focused on a core area of the firm aiming to ensure growth and an innovative culture.
The four committees are: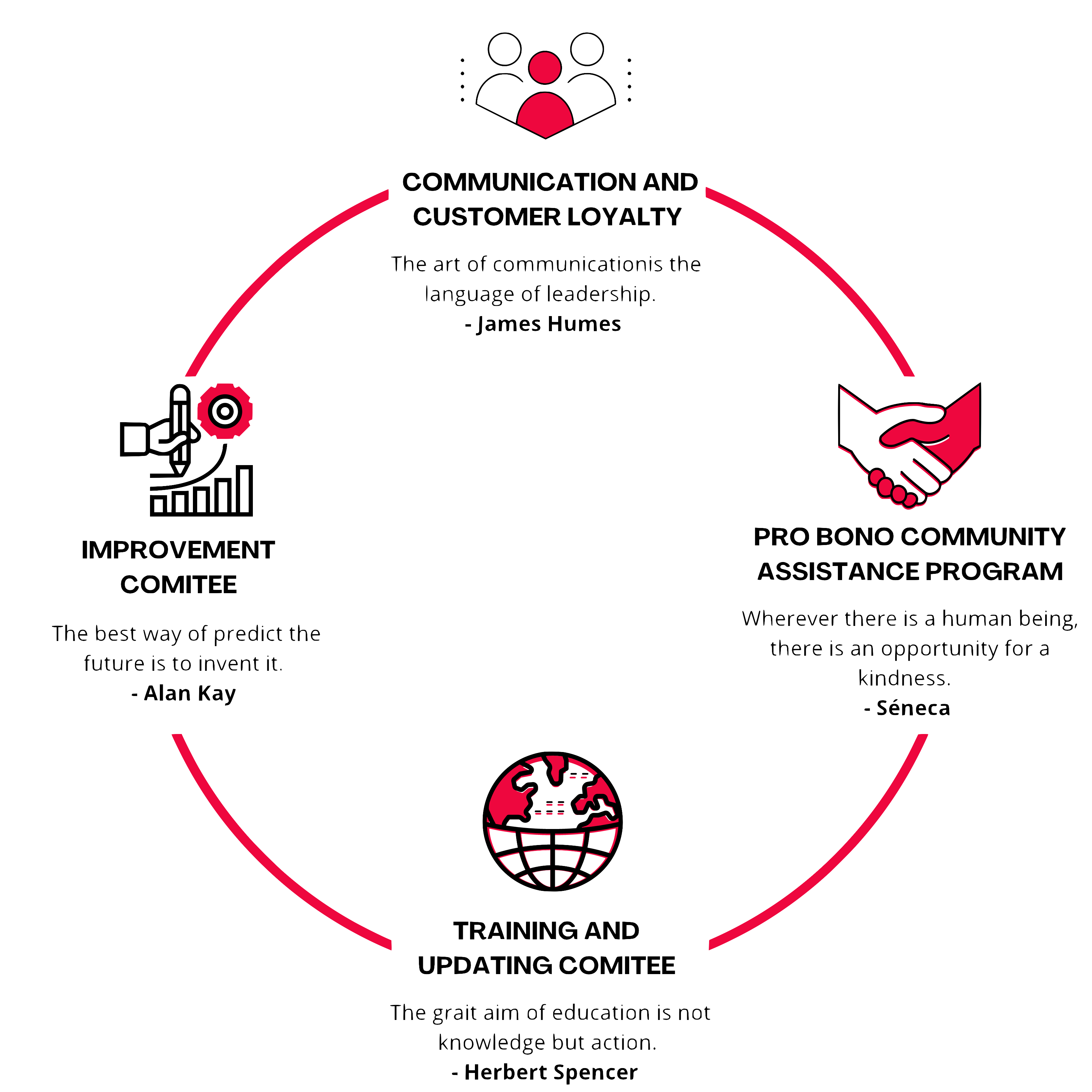 PRO BONO COMUNITY ASSISTANCE PROGRAM
"Wherever there is a human being, there is a oportunity for kindness" - Séneca
As part of our commitment to society, our firm has the honor of assigning part of its human and material resources into advising and providing counseling, at no cost, to associations, foundations, artists, inventors, universities, enterprising groups and students, among others.
The firm has established a Pro Bono committee in order to determine if a particular case qualifies for this program, as well as to coordinate and ensure that Pro Bono work meets the high quality standards of the firm.
COMMUNICATION AND CUSTOMER LOYALTY
"The art of communication is the language of leadership" - James Humes
As the main Ip boutique in Mexico's west side, it is crucial to have a solid and structured communications department; acknowledging the design trends and pursuit disruptive options in the creative field.
The communications commitee, was also created to fullfill not the legal but the human regards of our respected clients.
TRAINING AND UPDATING
"The great aim of education is not knowledge but action" - ´Herbert´ Spencer
In addition to promoting ethical work among our legal team, we have a committee specially dedicated to growing our knowledge. In this committee different topics of interest are presented, either of updates in the legal fields of the state, norms, reforms or for a general knowledge.
The committee also supports the collaborators academic and professional growth, by motivating them to pursue their respective goals.
IMPROVEMENT COMITEE
"The best way to predict the future, is to invent it" - Alan Kay
Finally, day-to-day activities could not be carried out, nor could they compete among the best in the world without having technology and offices updated to the needs of a massive digital era.
Vila it is thought that if you have the right tools, you will have the right results.